In Agra, fire broke out in the name of 'Lou Jihad', tense situation
The communal tension in Khanduli, Agra, in Uttar Pradesh, was created when a student belonging to the majority class fled with alleged minority boys. The incident is September 17, and it is reported that the situation in the area had deteriorated significantly over the night, and sectarian tensions developed. According to reports, the ninth grade student was kidnapped by non-class boys, after which around 200 people started hitting the shops and houses of the special class. Insurgents torched at least a dozen shops and vandalized half a dozen homes.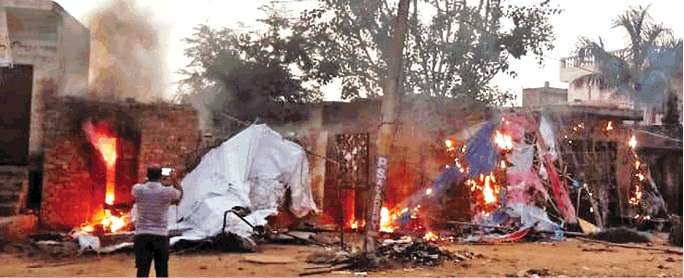 According to media sources, police recovered the girl late on Tuesday night and also arrested one of the accused, but sectarian tensions persist. In fact, a 15-year-old student studies at her grandmother's house in Semara, Khanduli. She went to school on Tuesday morning but did not return home. Later that afternoon, the search began at around noon and at 2 o'clock it was rumored that the missing girl's uncle had received a threatening phone call from the police. The news also spread that the two accused had been walking around the house for a few days. As a result, the suspense deepened and a writ was registered against the three boys in the police station. Until the evening when the police did not take action, the anger of the people erupted and they started to clash.
Upon receiving the disturbance, police IG Satish Ganesh and ten policemen, including the district magistrate, arrived at the scene. Meanwhile, at least 50 people from the minority community migrated to another area for fear of corruption. Satish Ganesh told the media that the missing student has been recovered and the whole matter is being investigated. At the same time, he said that the search for the vandalism in the area is underway and the arrest of the perpetrators will be speedy.
Earlier, the majority accused that Danesh, Adil and Qais belonging to the minority community of Semara village. This suspicion deepened as the boys had been wandering the streets for several days. It is said that when the family reported the abduction to the police, the accused then got a call from the accused saying that the girl was with them and if the police did not take action, the girl told them at 12 o'clock. Will get The phone was also reported to the police. The majority of the people say that despite all this, when the police did not take any specific steps, people became angry and took to the streets.
However, given the tension in the area, district magistrates NG Ravi Kumar and SSP Bablu Kumar are camping in the village. PAC and police force deployed. After the uproar, the village has turned into a cantonment. The district magistrate and SSP remained in the village till late at night.